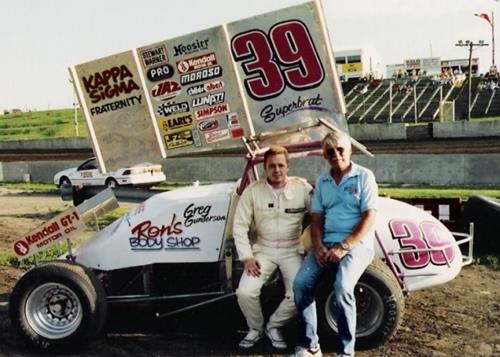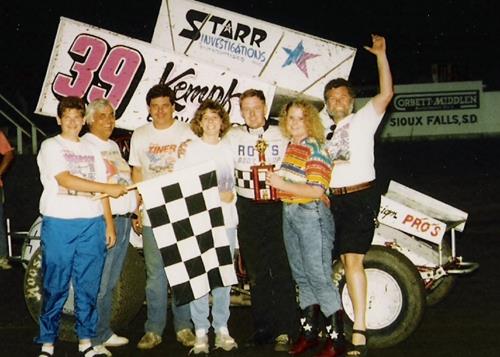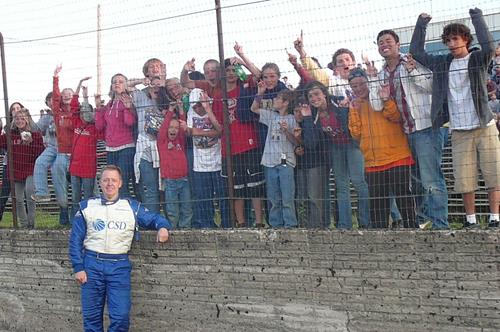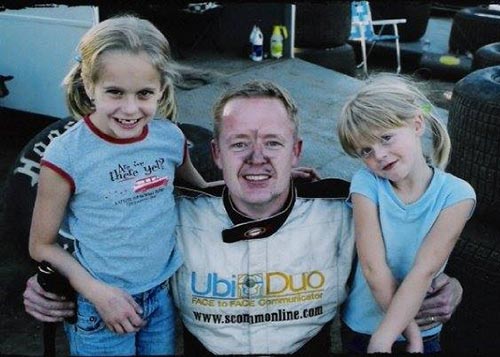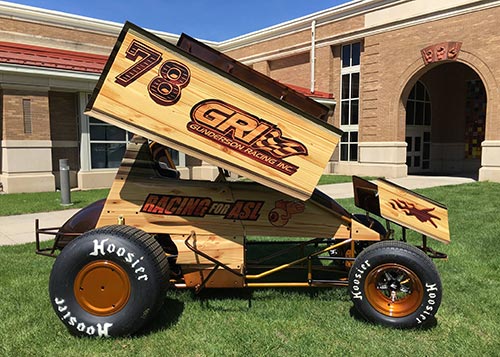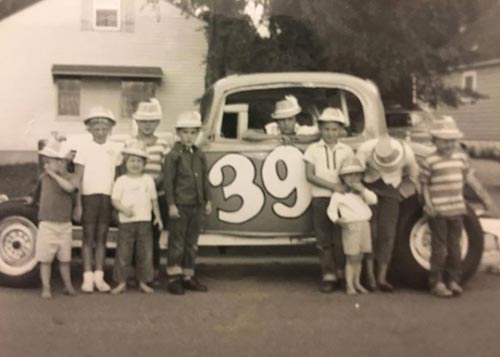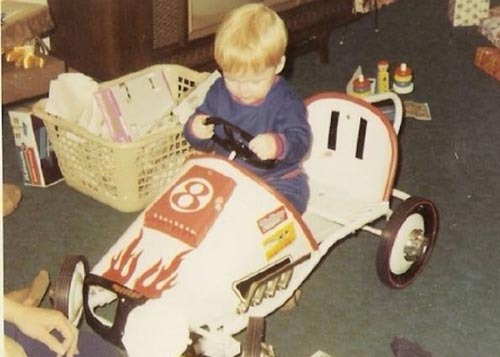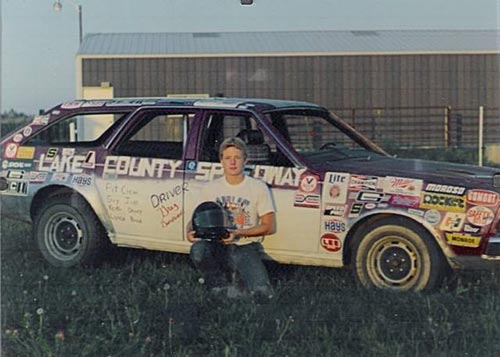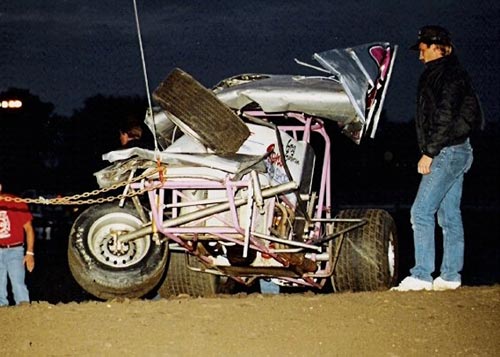 Under the Helmet with Greg Gunderson
The racing bug bit Greg Gunderson when he was a baby, but he doesn't remember his first race. Greg's father arrived at a drag racing event with Greg in a car seat. He strapped him in, took off at the starting gate and won the race.
From the time he was a toddler, Greg spent his days sitting in a car in his garage watching his father and grandfather fine-tune the engine before every race. "The car was my playground," Greg recalled. "When I was three, I was taking motor parts apart and putting them back together. I got all dirty in the process, but I loved it."
Greg was born deaf. His mother made this discovery after noticing that he was sleeping soundly as she vacuumed under his crib and a hearing test at the South Dakota School for the Deaf confirmed the diagnosis. Greg's father quickly called a deaf cousin Mark and arranged for him to move in with the family so they could learn American Sign Language.
For Greg, his father and his grandfather, the common language was racing. Greg went to every racing event with them. His father was a snowmobile dealer so Greg went along to snowmobile races. While his Dad was off talking with others, six-year-old Greg signed himself up in the youth division. Most of the kids were eight and older. He grabbed his father's snowmobile and went over to the starting line. The machine was a little big for him to handle, but the moment the flag dropped, Greg gunned for the finish line.
Later that night at the awards dinner, Greg's name was announced as the first-place winner for the kid's division. But of course, Greg didn't hear his name. His father turned to him in surprise. "They announced your name–there must be a mistake!"
Greg smiled with pride. "I won the race!" he signed. His father stared at him in shock. His six-year-old, deaf son just beat a bunch of kids who were older than him. Greg took home a check for $200.
Back home on the farm, despite being an only child, life was fun. Greg had a motocross track and snowmobile track in his backyard. After school, he would hit the tracks and race with his Uncle Guy, who was 14 years older. "Every day, I would arrive home tired, but when I got to the track, I would ride and ride. That was my medicine." He did various races: ATVs, motocross and dirt bikes. On the weekends, Greg and a friend would head to his grandparent's lake house and water ski.
In his junior year of high school, Greg and a friend went to a local race one weekend. Greg shelled out a dollar on a raffle ticket and settled in his seat to watch the race. During intermission, they announced his name; he won an Enduro race car. Greg was in shock when they handed him the keys. The following week, he entered his first entry-level race. "I was really nervous and breathing too fast– I fogged up my helmet," said Greg. "I had to push up the visor so I could see."
Six races later, Greg was in the turn when the car behind bumped him, sending him into the wall and head on into another car. Greg walked away unscathed, but the car was totaled.
Greg couldn't let go of the racing bug. "I want to race sprint cars!" he told his grandfather. A deaf sprint car driver? His grandfather couldn't see it happening. "No, it's too fast and dangerous," his grandfather warned.
But Greg didn't give up the vision. The summer after graduating from high school, Greg hung out with a sprint car team. He offered to work for them and would do anything for the chance to drive a car. "The night before I was to leave for Gallaudet, they let me drive the car during intermission," said Greg. "I did eight laps. It was like a drug for me. I couldn't let go of racing after that moment."
During the summer break, Greg spied a race car in a friend's garage. His friend couldn't afford to put an engine in the car. Every single day, Greg stopped by the house to try and convince his friend to let him have the car. Finally in July, his friend gave in. "Take the car!" Greg was grinning from ear to ear when he drove the car on a trailer to his uncle's garage.
But Greg had a dilemma, he didn't have any money for a motor. How was he going to get the car ready for a race?
There was one thing Greg did have a lot of: determination. Greg scouted several people who could help him put together a motor and the equipment he needed to race. Pretty soon, he had a motor, a race suit and everything he needed to enter his first sprint car race. "I paid not one cent on that car," Greg chuckled.
Before the race, Greg contacted the race officials and arranged to do some practice runs. And when he crossed the finish line at his first sprint car race, he landed in fourth place, outperforming some veterans who had been racing for years. "After that race, they all finally realized, 'Hey, I can race!'" He raced a couple more times that summer and went off to college.
During Christmas break, his friend sold the car. Greg was back to square one. But he did it once before, he could do it again. Greg rounded up the parts for another car and his Uncle Guy agreed to work on it, sending Greg pictures of the progress. By the summer, Greg was back in the seat racing again. Despite a much smaller motor than the other cars, Greg finished in the top five or ten in every race. But he soon realized he would never be able to compete at the top until he had a better car.
Another friend stepped forward. Ron Tysdal purchased a car for Greg and he soon won his first heat. Then five more in a row.
At the Souix Empire Fair in his hometown, Greg did poorly in a race on Friday night. "My grandfather and Ron told me not to go back and race the next day," said Greg. "But my Uncle Guy encouraged me to go without telling them, so I did."
Greg made it all the way to the finals. "I lined up at the starting pole and I took off in the lead," Greg recalled. "I didn't know how much of a lead, but around and around we went until the white flag went up, which means one more lap left. I was excited–I was in the lead. The last lap took forever!"
As soon as the black and white flag dropped, Greg realized he won. It was a sweet victory against so many experienced drivers. The announcer explained to the crowd that Greg was deaf. During the celebration lap, fans in the stand didn't clap– they stood up and waved their hands in the air. TV reporters and radio personalities swarmed him to get the story. With pen and paper and his uncle interpreting, Greg answered their questions. "Without a doubt, this race is one which stands out in my mind the most, because it was my first major win," said Greg. "But the following week, I was overconfident I was in front, but on the 10th lap I was too fast. I lost control, flipped over and destroyed the car. I went from hero to zero!"
Greg has won many more races since then.  After Greg has done over 700 race, he decided to retire his 30-year racing career in September 2015.
Here is how much I have spent in those 30 years of racing:
• $9,075 in the pit passes.
• $21,780 in the racing fuel.
• $7,260 in the car washes.
Greg said "Although there have been ups and downs throughout the years, I am walking away saying I didn't get crushed or burned…still in good shape for the shape I'm in."
Greg wants to thank all his fans, friends, sponsors, car owners, crew and family for all of their support!